, ,

Description
In this dialog window you can create a new parametric object constructed by material layers or you can edit an existing one.
The preview is only schematic in order to easily recognize the layers and select them directly in the preview. The layers will either be displayed horizontally or vertically and their length will be ignored.
In the orientation control group you can define the orientation of the layers by clicking on the circle representation or by numerically editing the corresponding field. By clicking inside one of the small squares in the circle representation the corresponding multiple of 15° will be set.
In the table you can choose the material property of a layer from the list of materials existing in the document or create a new material in the opening Material dialog window and you can adapt the layer thickness. With the buttons right of the table you can move, insert and delete layers.
The thickness as well the material properties can also be changed in the usual way (e.g. Select, Move, Scale tool, Drag&Drop).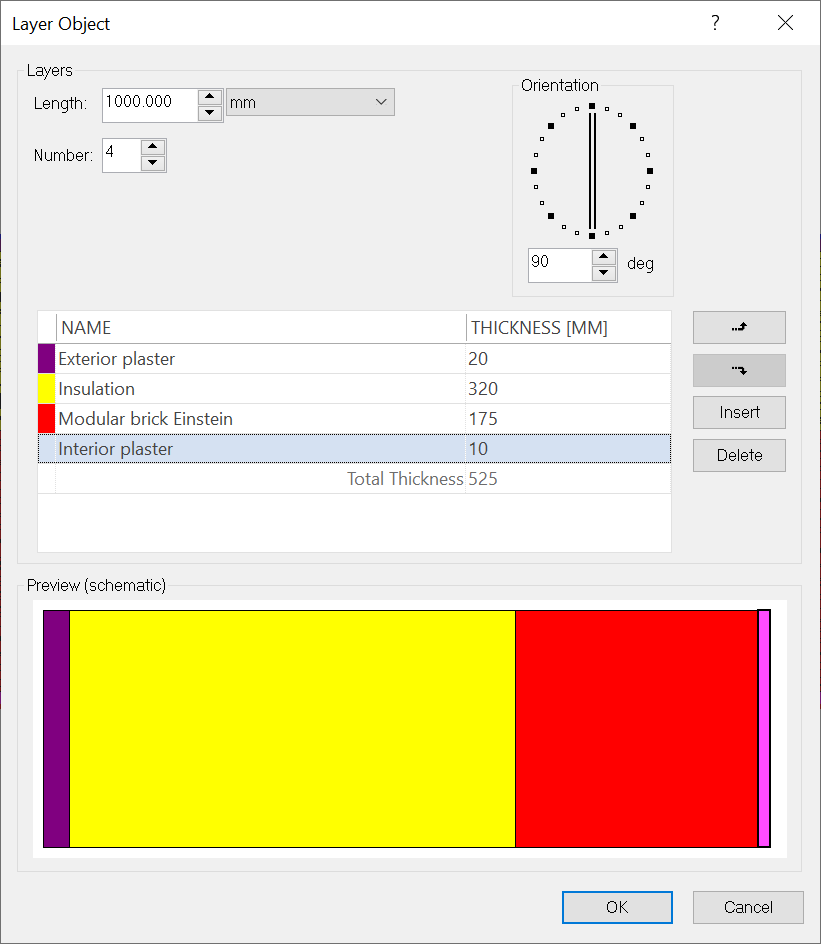 Fields
| | |
| --- | --- |
| Length | Length of the layers. |
| Number | Number of the layers. |
| Orientation | Orientation of the layers. |
| | Moves the selected layer upwards. |
| | Moves the selected layer downwards. |
| Insert | Inserts a new layer before the selected layer. |
| Delete | Deletes the selected layer. |
| OK | Adapts the layer object accordingly and closes the dialog window. |
| Cancel | Cancels the action. The changed data will be discarded. |