Description
The general settings of flixo are defined in the following dialog window: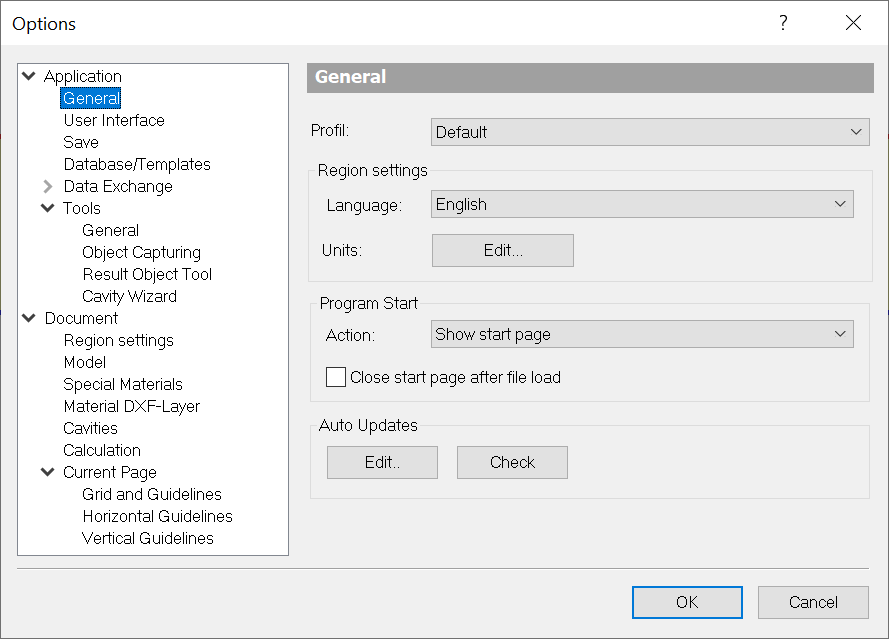 Fields
Profile

Here you can select the current profile. The standard template and the tools that should be hidden can be set in a profile.

Region settings: Language

Here you can choose the language of the user interface. The new UI language will become active after restarting flixo.

Region settings: Units

Here you can choose the units of the user interface.

Program Launch

In this list, you can set the action that is performed when you launch flixo: Create new default file, Open most recent used file or Show start page. On the Start Page you can either open one of the recently used files, create a new default file or import a file.

If the option Close start page after file load is selected, any open Start Page closes automatically after loading a file.




Adjusts the settings for the automatic control for existing updates and service releases. Here, the check frequency and downloads folder can be determined.

Auto Updates: Check

Checks if the installed version of flixo is the most recent version and if other updates and service releases exist. The frequency of the check can be adjusted in the options.

For Auto Updates you need access to the Internet.

For update checks you need write permissions for the downloads folder.