Description
The two dialog windows: Horizontal Guidelines and Vertical Guidelines are used to set, modify, and delete guidelines. The dialog windows are identical, except for that they apply to two different sets of guidelines: one to the horizontal guidelines and the other to the vertical guidelines. Use of guidelines is described in more detail in lesson 6.

The settings always correspond to the active page (see tabs on the lower edge of the application window).
A detailed description:
Enter the exact coordinate of the guideline into the text field and then click Add, or adjust the coordinate of an existing guideline by selecting the guideline from the list, entering the new coordinate for the guideline and then clicking on Move. The unit can be chosen from the drop down list. The default unit is set in the Unit Options dialog window.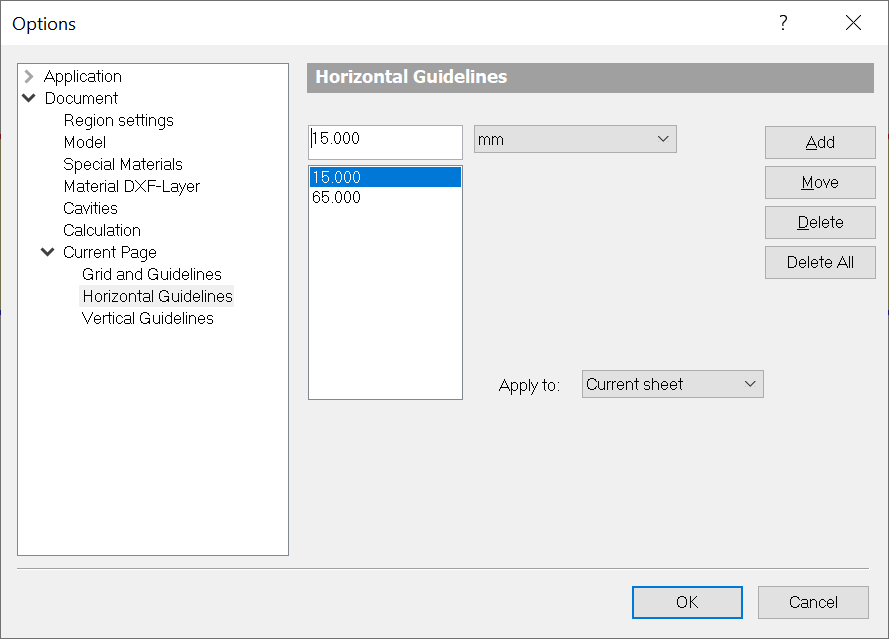 Fields
List

Shows all defined guidelines.

Add

Adds a new guideline with specific coordinates.

Move

Adjusts the coordinate of the selected guideline.

Delete

Deletes the selected guidelines.

Delete All

Deletes all the guidelines in the list.

Apply to

Here you can select whether to apply the settings for the current page or the master report.

The options depend on the currently selected page (see tab at the bottom of the window).