Use
Limitations
Description
The Elliptical Domain tool allows you to create elliptical shapes and circular approximations. Because these domains have to be broken down for the computational process, neither true ellipsis nor true circles are created, flixo generates a polygon approximation. The quality of these approximations, i.e. the number of points on the polygon, can be determined.
How do I activate it?
The Elliptical Domain tool can be activated with the command Elliptical Domain in the menu Insert or by clicking on the
icon in the Toolbox flyout. When the tool is active, the mouse becomes a

.
How do I use it?
The use of the Elliptical Domain tool is similar to that of the Rectangular Domain tool. The only difference is that the indicated coordinates and dimensions do not define a rectangle, but rather the dimensions of the bound ellipse. Also here, the holding down of the Shift key means that the dimensions in vertical and horizontal direction are identical, i.e. a circle is created.
Number of Reference Points on the Polygon
The number of reference points on the polygon determines how precise the elliptical (circular) approximation is. The higher the number of points, the better the approximation. However, you should take into account that as the number of reference points increases, the calculation performance will also be prolonged.
The number of reference points on the polygon can be determined in the No of Segments field in the Ellipse Domain tool properties (see figure 1).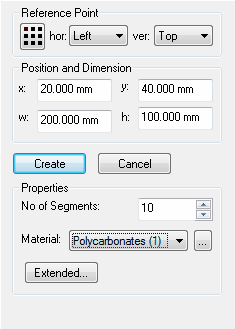 Limitations
•The maximum number of reference points for the polygon approximation is 99.